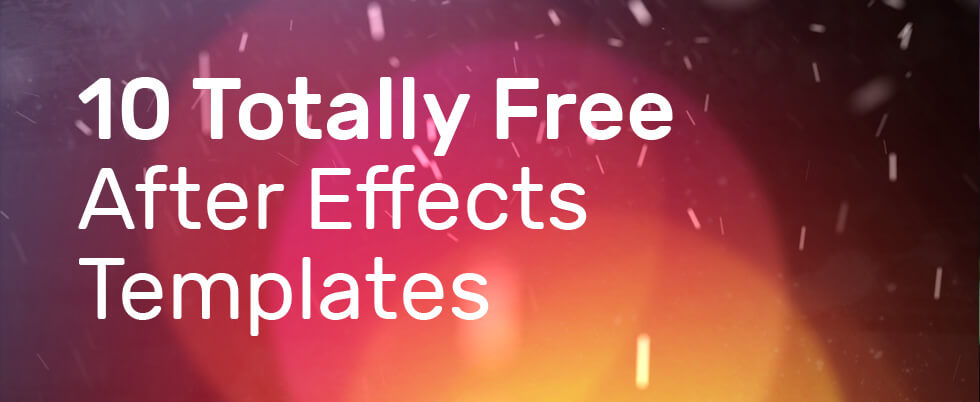 Grab these awesome free video templates for After Effects
We've picked out a variety of amazing free projects including simple logo reveals, beautiful photo slideshows, corporate promotions and kinetic text – all in glorious high definition. So, if you're in a pinch and need a bespoke video sequence, pronto! – save our list of 10 totally free After Effects templates.
For personal and commercial use these projects work like magic, without needing any extra plugins, and will even open in older versions of After Effects (CS5 or later).
---
We kick off our list of free After Effects templates with not one, but a pack of three high-tech logo reveals. Easy to use and of professional quality this template pack is sure to give your brand some power.
Amazingly each logo reveal also comes bundled with free sound effects – so you don't even need to spend time and money adding audio. It really is instant video branding!
Great for YouTube channel idents, corporate videos and website intros.
We love the neon colors and lighting effects on these logo reveals
---
Download High Voltage Logo Reveals – Free After Effects Template

---
If you liked getting three templates in one pack you'll love getting twelve!
This set of 12 simple logo reveals is perfect for those who want to try out their own After Effects skills. The animations are simple for a reason, you can use them as they are or customize them with your own effects and background images.
This is the perfect starter project for beginner users of After Effects, or as a basis for more experienced users to experiment with.
Plus, this project is 4K ready so you can future-proof your logo sequence for the highest possible resolution.
These free After Effects templates are perfect for YouTube channel idents, corporate video branding, website intros and more!
We love that this forms a handy 'starter template' for future intro projects
---
Download Simple Logo Reveal Pack – Free After Effects Template

---
Lens bokeh is a pleasing photographic effect, caused by defocussed light, rendered as multiple, overlapping shapes on the camera lens. This beautiful titles template allows you to utilise this elegant glittering effect as an elegant backdrop to text or motion graphics.
With 10 text placeholders this project is perfect for stunning, dramatic title sequences or artistic messages.
We love the gentle flickering colors on this template
---
Download Defocus Titles – Free After Effects Template

---
Create your own product sales sequence using these handy, editable text elements. Includes product totem panels, flashes, lower thirds, ribbons and full screen transitions – easy to edit and duplicate.
Contains a set of red motion graphics, plus a set of Black Friday graphics.
Perfect for retail and online sales videos – any time of the year!
We love that you can create multiple sales infographics from a single template
---
Download Big Sale Elements Pack – Free After Effects Template

---
We're now only halfway down our list of free After Effects templates – time to go hexagonal! A clean, subtle slideshow of softly animated hexagons to reveal your ideas. Contains 12 placeholders for images or video and text.
The abstract look to this template allows it to suit personal, business, fashion or even scientific themes.
We love that this template is modular, so you can re-order or remove sections with ease – plus the animation is incredibly elegant
---
Download Clean White Hexagons – Free After Effects Template

---
Kinetic typography continues to turn heads and this project takes it one step further, by animating punctuation, too!
It's essentially an explainer video, one person is asking questions about the product or service and another is providing answers.
We love the informal, chatty feeling from this and the genius use of symbols throughout – would make any business look clever!
---
Download Kinetic Conversation Promo – Free After Effects Template

---
If you need to glitch things up then this typographic template offers the digital distortion you're looking for!
TechType Promo is a stylish, abstract, graphical presentation with loads of text placeholders for your messages.
Though the style suggests complex, information technology it also lends itself well to themes of manufacturing and science.
We love the glitchy graphic design and modern typography
---
Download TechType Promo – Free After Effects Template

---
Presented as sports titles this project actually has many creative uses. The brush stroke effects can be colored differently, and the typeface changed, to suit almost any theme. There are ready made sequences for both title sequence and movie trailer.
Great for movie title sequences but could also be used to carry artistic messages for chapter screens or bumpers.
We love the artistic paint textures behind the text
---
Download Sports Movie Trailer and Titles – Free After Effects Template

---
This one's a must have for anyone creating business presentations. Though it looks very technology oriented at first (like a Windows Metro interface) it's easy to imagine this project working well for all manner of product, service and business types – from fashion promos to photo galleries.
This template does a fantastic job of breaking down your promotion blurb into small, manageable info snippets, drip-feeding your message to the viewer.
We love that all the panels come together into a completed structure at the end
---
Download Metro Business Presentation – Free After Effects Template

---
Last but not least on our list of free After Effects templates is Dynamic RGB. This photo gallery is minimal and clean, yet energetic with its clever use of parallax movement.
Dynamic RGB is a gallery of image panels which transition using RGB splits, creating an exciting and engaging visual style.
The project has over 50 media placeholders and a modular structure, meaning it's easy to move things around or remove sections.
Suitable for unlimited applications, from personal photo gallery or video montage to corporate messages.
We love the movement and channel splitting effect on this sequence
---
Download Dynamic RGB Slideshow – Free After Effects Template

---
Get even more free After Effects templates and motion graphics to make video production easier at Enchanted Media.
---
Share this awesome list with someone!
---
Please leave a comment or suggestion