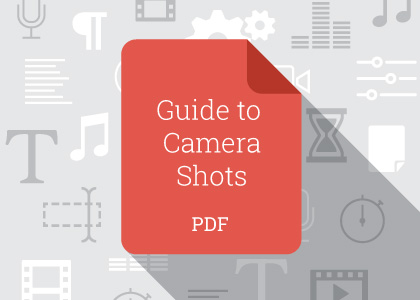 Handy Guide to Basic Camera Shots
A guide to all the basic camera shot type and terminology for beginners in video and animation.
The PDF guide provides detailed analysis of the following camera shot types :
Camera Framing Terms (Shot Size)
Extreme Close-Up (ECU)
Close-Up (CU)
Medium Close-Up (MCU)
Medium/Mid Shot (MS)
Wide Shot (WS) or Full Shot (FS)
Long Shot (LS) or Establishing Shot (ES)
Extreme Long Shot (ELS)
Camera Angle Types
Over The Shoulder (OTS)
Point Of View (POV)
Low Angle Shot
High Angle Shot
Aerial Shot
Bird's-Eye View or Top Shot
Dutch Tilt or Dutch Angle Shot
Other Camera Shot Types
Cutaway (CA)
Cut-in or Insert
Reaction Shot or Noddie
Master Shot (MS)
For an online version of this guide please read our accompanying blog article – A Beginner's Guide to Camera Shots and Angles.
Software Requirements
This is a standard PDF file and can be opened with Acrobat Reader
Need to make a Storyboard?
Download our free Storyboard Templates right here!
Spread the word for more free files!
Our aim is to keep growing this resource of free video content as long as we can. Please credit the Enchanted Media website (www.enchanted.media) in your work so we can continue to provide even more free After Effects templates and video assets.