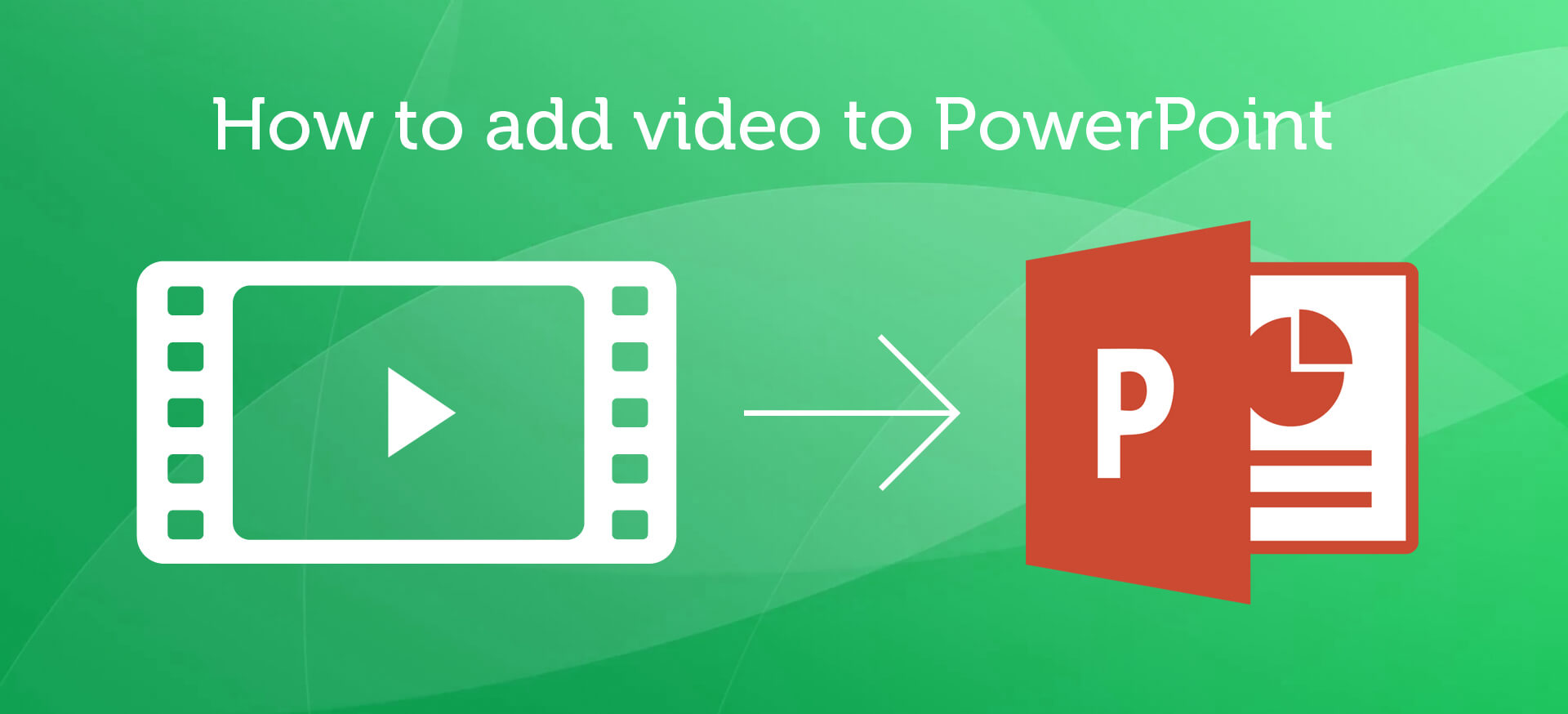 Ever needed to spice up a dull slide presentation?
Microsoft's PowerPoint has long been the go-to app for quick and effective slideshow creation, but are you doing enough to keep the attention of your audience?
What's the quickest way to turn your tedious AGM data presentation into an engaging production for the whole office to enjoy? Video is the answer and, thankfully, it's a breeze to include.
Why use video in PowerPoint?
Making sure the facts are right, the spellings are correct, the slides are in the right order – these are the things crucial to a successful presentation.
But slideshows can be a bore, let's face it. And most slides are cobbled together at the last minute.
This is where the right graphics, and the inclusion of video can do wonders to elevate your creation.
It's important to think of video as an enhancement to the on-screen information, and not just to make the slides look colorful. Visual stimulation greatly emphasizes your messages, and it keeps viewers engaged.
Plus, if you're a nervous public speaker making your presentation more visual helps draw your audience's attention onto the screen – and away from you!
It doesn't even have to be a time-consuming task to source professional quality footage and graphics. Royalty-free stock media has exploded over recent years and the standard of video, photography and illustrations has improved tremendously – gone are the days of cartoon style clip-art!
How to insert video in PowerPoint
So, you've got hold of an amazing video background which perfectly complements your brand – what's the best way of adding video footage into your slides you might ask. Well, actually it's just as simple as inserting graphics.
1. Choose the slide you want to add video to
2. Go to the Insert tab and choose Movie from File from the film strip icon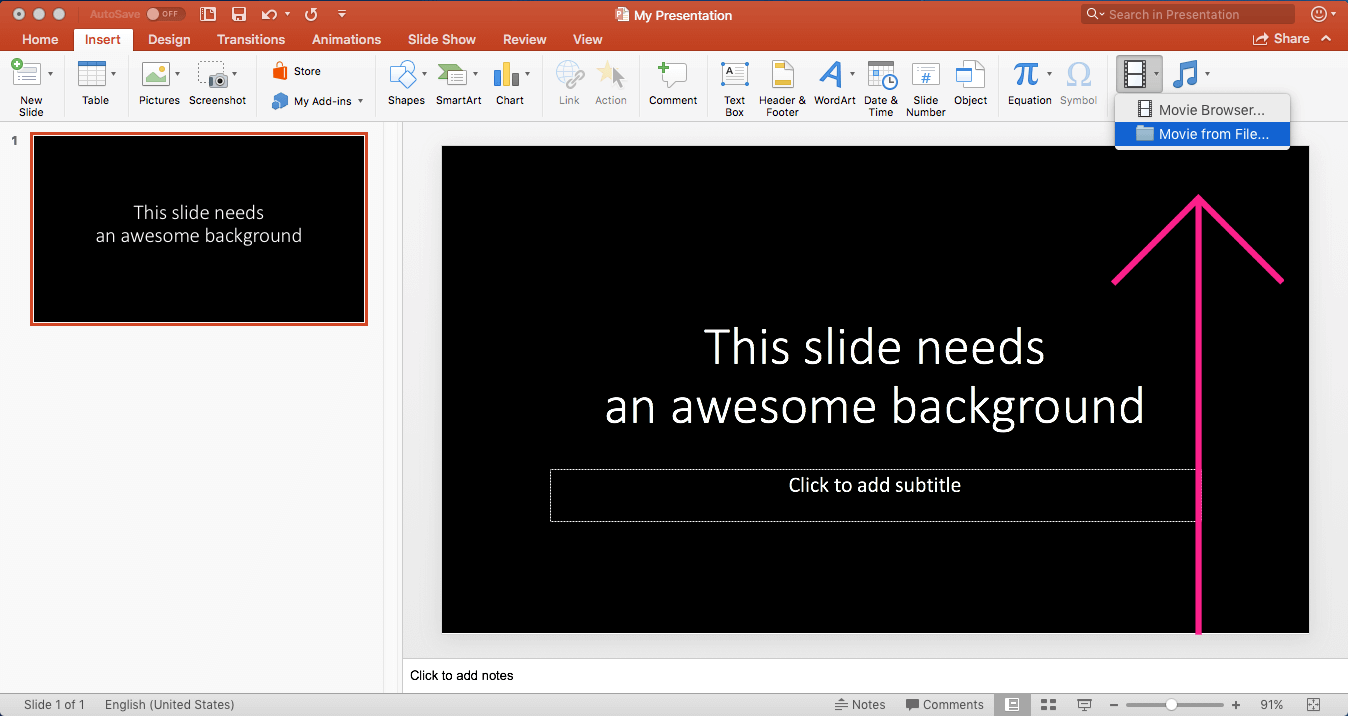 3. Locate your chosen video file
4. Click Insert to add the video to your slide
5. This hides your text so select the video and go to Arrange > Send to Back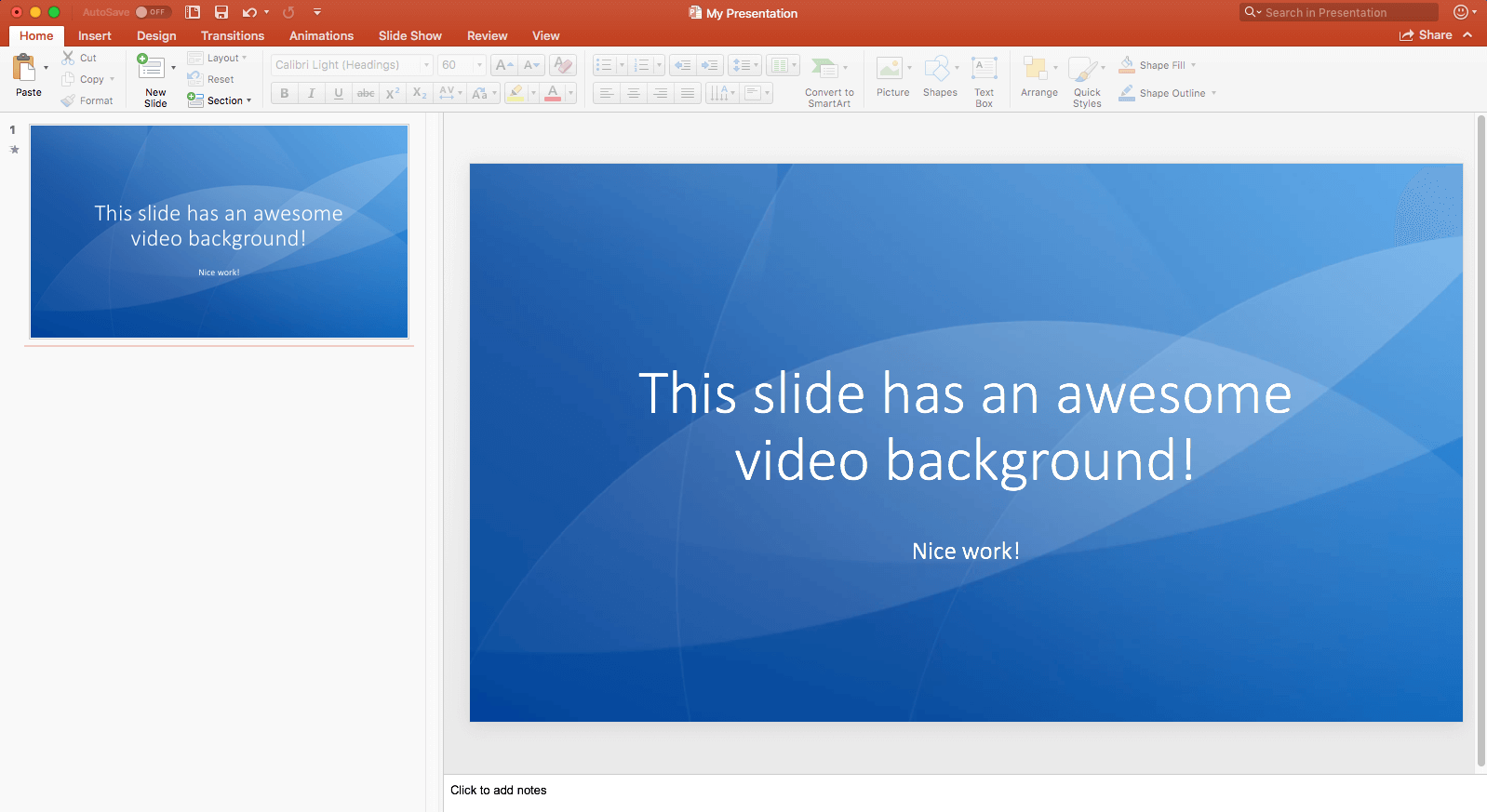 Well, that was easy! Now let's see what options we have when it comes to video playback in Powerpoint.
How to autoplay video in PowerPoint
Once you have your video on the slide, select it and click the Playback tab at the top of the window.
There are a few options here but to set a video to play automatically, when you reach its slide, select the dropdown menu, next to Start:, and choose Automatically.

Now the video will start playing as soon as your presentation reaches this slide.
How to loop video in PowerPoint
Seamless video background loops are a great way to add motion and color to your slides but, they're usually only around 10 seconds long and, by default, stop when finished — which can look pretty unprofessional if you're still discussing that slide. So how do you keep video playing continuously, when you want to stay on the slide longer?
Well, this is just another quick setting in the Playback tab. Simply click the Loop Until Stopped checkbox and your video will play from the beginning on an endless loop, until you move to the next slide.
This video from Andrzej Pach's Powerpoint Course on Udemy shows how it's done in even more detail:
---
This is all great when you have a movie file on your system, but what if you want to use an online video?
How to embed a YouTube video in PowerPoint
If you've found a video on YouTube and want to add it to your Powerpoint presentation use the following steps.
1. On YouTube copy the video's entire URL from the browser bar or from its Share button
2. In PowerPoint select the slide you want to add video to
3. Go to the Insert tab and choose Online Video from the film strip icon
4. Paste the URL into the YouTube field
5. Click the video thumbnail and choose Insert
The following video shows how to do this in more detail:
Embedding a YouTube video in PowerPoint 2016 for Mac
If you're running an older version of PowerPoint for Mac you may not see the option Online Video from the Insert dropdown menu.
You'll need to use the following steps to insert a YouTube video into your slide.
1. Select the slide you wish to add video to
2. From the Insert tab choose Store (the red suitcase icon)
3. Search for Web Video Player and click Add
4. Paste the URL from your YouTube video and click Set Video
5. For subsequent video embedding choose Web Video Player > Add from the My Add-ins dropdown menu
The following short video shows the process of adding online video to Powerpoint 2016 on the Mac:
---
Hopefully these tips will help your presentations stand out and keep your audience on the edge of their office chairs! You're now good to go with video in Powerpoint!
For a selection of professionally animated video backgrounds please check out our growing library of animated footage loops at Enchanted Media.
---
Looking for some free video footage?
If you head on over to Adobe Stock they have a huge selection of free animations and stock footage, as well as free images and graphics to help spruce up your PowerPoint slides.
Free Videos from Adobe Stock
---
That's all for now!
Please share this awesome page of inspiration with others (they'll thank you for it!) and be sure to follow our YouTube channel for more video content freebies!
---